Gelish Nailharmony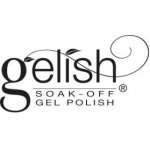 The Gelish by Nail Harmony invented, patented and perfected product is offered at Zoga Beauty only in the original.
Gelish innovation in the field of non-splintering, long lasting nail polish.
The product is on the cutting edge of technology.

You have 21 days guarantee a flawless result and a perfect glossy finish.
Scratches and chipping a thing of the past.
The natural nail is amplified.
A model is no longer necessary because Gelish is applied like a nail polish.
It has the durability of a gel.
The Zoga Beauty Remover is the manicure in max.
10 minutes away gently.
Without grinder!


Gelish Nail Harmony can be superbly with products of Shellac CND, OPI and Essie Gelcolor gel combine.
The nail polish of Hollywood stars - Europe has sought and loved it!
You know Gelish yet?
Gelish Nail Harmony invented the Soak Off Gel System!
It offers over 100 different colors to choose from.
The bottles contain 15 ML.
Buy Gelish Nail Harmony your home studio or additional revenues are guaranteed.
Why?
Because the quality is impeccable.
The product Gelish Nail Harmony can be applied easily.
It can be worked great and is suitable for natural nails equally as for artificial nails.
The shelf life is about 3-4 weeks.
The nails look natural, UV nail polish does not burst from scratches and belong to the past.
The drying time is equal to - zero!


What is a Gelish Manicure Nail Harmony apply and what you need for that?


1. Nail Harmony Gelish Base Coat

2. Nail Harmony Gelish Top Coat

3. Nail Harmony Gelish color paint

4. Zoga Beauty Remover

5. Zoga Beauty Cleanser

6. Gelish Nail Harmony PH Bond



This might interest you:


http://www.zoga-beauty.com/Gelish-Shellac-CND-Shellac-kaufen-in-Berlin-Gelish-in-Deutschland-starter-set
Page 1 of 1
17 Items Found, Show items 1 - 17
---